A group of over 30 neighbors met yesterday to share stories about how a very special cat touched their lives. I hope when I pass on that I have had such an impact on people. Here is a story written in Chester's memory by Rosemary Serluca-Foster: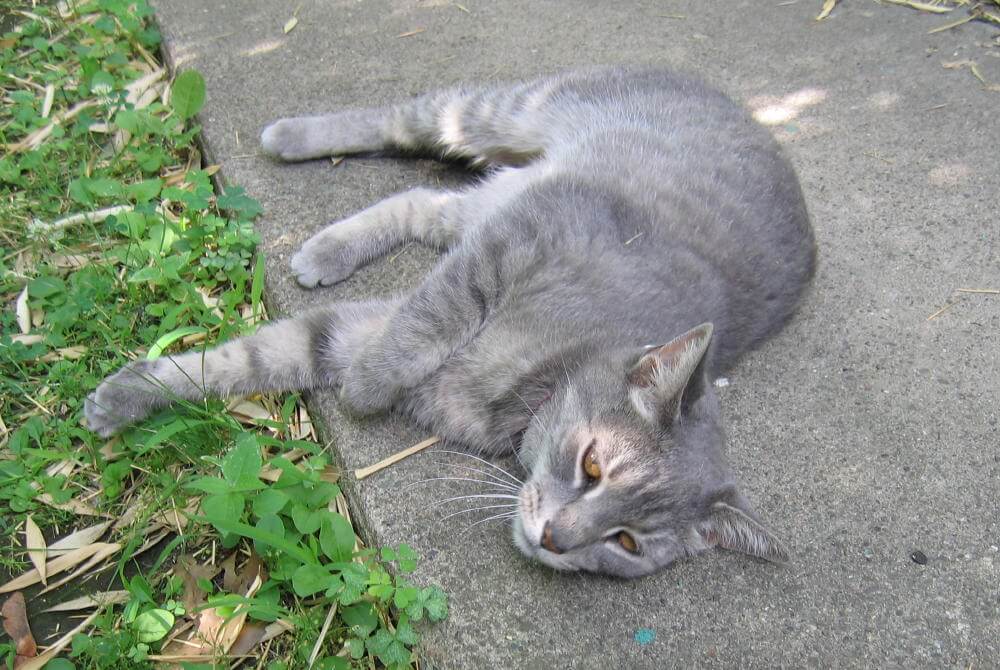 No matter what room of the house I was in, I heard the jingle of his little bell, a sound that seemed to distinguish itself from all the rest, announcing, "I'm here! Please stop whatever you are doing and spend time with me." I was like a child on Christmas morning, racing down the steps to not only see what Santa had brought, but if I was lucky enough, to see Santa himself. That little ring was a signal to let me know my day was about to become brighter.
Chester was a social, silvery grey cat that would visit every house on the block. To many, he was thought of as a mayor, visiting homes, campaigning for love and affection. He did have a traditional home -across the street from ours, with his Mom Ruth, but it seems that he had many residences, traveling about like a little Buddha. He successfully managed to charm all of us, and became a welcome and endearing visitor.
Our courtship began very slowly. You see, I am highly allergic to cats. And because of that allergy, I have never been able to really be around them, let alone pet them. At first, when Chester would come to visit, I would set out a bowl of water for him, and just watch him.
He would snuggle up to my legs, meowing in his very conservational tone, yearning for me to pet him. But I couldn't. So my very unallergic husband Doug, would be summoned to do so, and both man and cat were happy, while I looked on, wishing I could participate.
Slowly, our relationship moved from me pining after him, to courtship. I began to surrender a bit more, and allowed myself to pet him with one hand. My goodness, the delicious enjoyment he experienced. Lifting his little backside up in the air, tilting his head to one side, emitting his unique and chatty meow.
There were days when I would be in our backyard reading a book, and Chester would jump up on to the wrought iron table, spreading himself out like he owned it, enjoying the warm sunshine. We stayed like that for long stretches, and I realized cats make the best meditation teachers, for they can hold such quiet, contentment for hours, truly being in the present moment.
Our relationship progressed with me now utilizing both hands to pet him. Now mind you, I had to immediately wash them before touching anything else, especially my eyes, but after awhile I stopped worrying. And then, finally two days before Chester crossed over, he sat up looking at me with his very sweet expression, and I did it. I let him jump onto my lap, completely ignoring my allergy, which by then had been forgotten.
Petting him that day felt like I had treated myself to a big bowl of comfort, served up especially for me. How wonderful to embrace that which I once feared; the rewards of love and connection far outweighing the burdens of allergy anxiety.
Chester was our very sweet, spiritual friend. His spontaneous, surprise visits were like little pockets of sacred time through out the day. A chance to stop, linger, and just be at peace. His aloof, sphinx-like stance, devilish delight and being petted, and serene poses luxuriating in the sun, are just a few of the many portraits Chester has gifted to us.
Chester's presence was a miracle. And he will always keep a very warm place in our hearts. Thank you Ruth, for sharing such a special being with all of us.