Nyack People & Places: Doug Foster, Nyack Boat Charter

by Mike Hays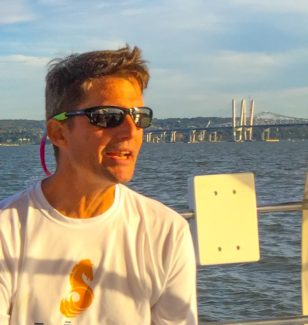 The Hudson River flows through Doug Foster's veins. His family has resided in the Hudson River Valley for five generations. His passion for sailing has culminated in Nyack Boat Charter, a business he co-owns with his friend Rob Bellanich, devoted to sharing the joy of the Hudson River sailing experience.
Nyack has always been a river town. Native Americans fished and harvested oysters here. Early settlers shipped produce from Rockland County. Shipbuilding flourished. Passengers arrived at Nyack docks daily from north, south, and east.
We love our river in Nyack, yet few of us experience the river on its own terms except from the shore, or from the Tappan Zee Bridge. Sailing with Foster gives us a chance to be on and with the river. While the sails are trimmed and the captain steers a straight line, passengers relax into an entirely new perception of their village and the river.

On the 54-foot Al Vento, piloted from its river mooring, Nyack quickly blends into the surrounding hillsides. Landmarks change on the water. To the north, Hook Mountain dominates the view; to the south, the TZB. The old Nyack High School and the cell phone towers near the Time Hotel are the only visible landmarks left of the village. The boat that seemed so small from the shore comes alive as a powerful force in wind and tide. Senses awaken: the smell of the water, the feel of wind on the face, and sound of sails and water in motion.
Growing up Sailing
Foster was born in Pleasantville, NY. As members of the American Yacht Club, his family took him sailing almost before he could walk.  When his family moved to Michigan, Foster grew up sailing on the Detroit River near Belle Island in a 35-footer. Foster's eyes twinkle when he talks about sailing up Lake Huron to Northern Michigan and Mackinac Island.
Before starting graduate school at Cornell, Foster spent time in Barcelona, Spain and Bogota, Colombia, so his first impulse was to go into international planning. Soon realizing the ex-pat life was not for him, he changed to regional planning and earned a Master's degree.
Moving to Nyack
Foster settled in Nyack after marrying Rosemary, a TV producer. Nyack was the perfect choice for a couple that wanted to be near the city and water while living in a progressive, diverse village.
In 2009, Foster was elected Nyack Village Trustee, a position he held for 8 years. The urban planning skills he learned while working for the city of Ithaca served Nyack well. His tenure corresponded with new fiscal stability in Nyack, better roads, and a revitalized marina and Memorial Park, both already in bad shape before Sandy hit in 2012.
The waters of Nyack politics weren't the only things Foster navigated. He started his own company, Foster Solutions, Inc., bringing his web building and database skills to new customers. He developed the Nyack Village web site, and, with Dave Zornow, he founded Nyack News And Views, Nyack's first local online daily news service.
Nyack Boat Charter
Foster's entrepreneurial skills and passion for sailing came together when he formed Nyack Boat Charter in 2016 with Captain Rob Belanich, the owner of NY Boat Charter, out of Weehawken, NJ. The combination of Foster's sailing skills and Belanich's charter business experience was a natural fit.
The 75-foot mast of the Al Vento may not seem so tall from the shore. But then you notice how much larger it is than all the other boats moored in the Nyack marina. The boat can accommodate 12 passengers. It has four staterooms and three bathrooms. On a calm day, passengers are allowed to sit out on the deck.
The experience of drinking a glass of Warwick Valley Wine or an Industrial Arts Brewing craft beer and eating food from Nyack Gourmet, while watching the sun set behind the Nyack hills  yields glowing reviews on TripAdvisor. Nyack Boat Charter is the number two Nyack Trip Advisor attraction, just after Nyack Beach State Park and ahead of the Edward Hopper House Museum.
Public cruises depart Nyack boat marina two hours before sunset (currently 6:45p) Thursday through Sunday. Afternoon public cruises start at 1:00p on Saturday and Sunday. The boat is available to charter for special occasions, for family events, and for corporate outings. Two smaller boats for water sports are also available for multi-day trips.
Charting the Future
Sailing the Hudson River provides Foster a way to connect with his ancestral family and with the local community. However, he is not quitting his day job in technology for J.P. Morgan Chase just yet. Nyack Boat Charters is still in its infancy
His charter dreams? Perfect weather, glorious sunsets, and multi-day passenger cruises upriver into the fjord-like beauty of the Hudson.
See also:
Photos by Mike Hays. Video by Nyack Boat Charter.
Michael Hays is a 30-year resident of the Nyacks. He grew up the son of a professor and nurse in Champaign, Illinois. He has recently retired from a long career in educational publishing with Prentice-Hall and McGraw-Hill. He is an avid cyclist, amateur historian and photographer, gardener, and dog walker. He has enjoyed more years than he cares to count with his beautiful companion, Bernie Richey. You can follow him on Instagram as UpperNyackMike.