Nyack Boat Charter Teams Up With Fliteboard For Upcoming Season
By Tina Traster
Riding a Fliteboard, a mini-hydrofoil surfboard engineered by an Australian sports-technology entrepreneur, may just be the ultimate water thrill for those who want to practice social distancing.
As it happens, Nyack's riverfront is the American headquarters for the rollout of this novel water sport. Rudi Miklosvary, a native Aussie and energy consultant who has lived in Nyack for nearly a decade, has opened a sales office, showroom, and, in partnership with Nyack Boat Charter, a "flite school" at the bottom of Main Street in the village.
"The Fliteboard rider experiences the sensation of flying across the water," said Miklosvary, Fliteboard's U.S. general manager. "Nyack is a strategic location for us. Besides being on the river, we are selling a river toy that's not cheap by any means. Nyack puts us right at the heart of the largest market of concentrated wealth that includes New York City, Long Island, and the entire metro region."
Fliteboards, which cost roughly $13,000, are half-sized surfboards sitting atop a mini hydrofoil that surfs the waters the way a snowboard carves through fresh powder. Developed by kiteboarder David Trewern of Byron Bay, Australia, the plank lifts a rider up to 18 inches above the water and can cruise up to 28 mph. From the shore line, onlookers are stopped in their track, rubbing their eyes because it appears as though the boarder is walking on water. No doubt exclaiming Jesus Christ!
But Fliteboard, Trewern hopes, will be a serious "disrupter" in action water sports because the board requires no wind or waves and it's powered by clean energy, unlike jet skis. Trewern, a well-known figure in the surfing world, and serial innovator, is hoping to use this environmentally-friendly powered marine craft to shift water sports.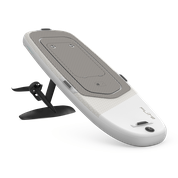 Fliteboard is stable and easy to maneuver. Propulsion comes from a 7 horse power, brushless electric motor housed in a unibody fuselage of aircraft-grade aluminum. The hydrofoil has "wings" designed by naval architects affiliated with America's Cup.
Riders manage the board with a handheld Flite controller (with Bluetooth connectivity and GPS), which has 20 gear selections and stores each session's data, such as top speed, distance traveled and battery power. A charge lasts an hour and a half.
This sea toy has caught the attention of the well-to-do but Miklosvary is hoping to make Fliteboard an accessible experience to the masses. Shopify's founder Tobias Lutke described it as "the most magical gadget on the planet." The company says its list of clientele includes Katy Perry, Mike Cannon-Brookes, Rod Drury and Formula One World champion Nico Rosberg.
Trewern spent upwards of $2 million and three years to build Fliteboard, using a team of industrial designers, hydro-dynamicists, electronics and software engineers, and battery experts. The first prototype was made on a 3D printer but the boards are now manufactured using parts from Australia, Asia China, Germany and the U.S.
The innovator has won several design awards in Australia, Germany and the U.S., including the "Best of the Best" 2020 Red Dot Product Design Award.
To date, 1,000 boards have been sold across 30 countries.
This summer, Miklosvary and Doug Foster's Nyack Boat Charter will team up with a "flite" school at Nyack Marina, bringing a unique attraction to the river, Rockland County and the region.
"This is a new and exciting sport and the Hudson River is the perfect place to do it because it's a protected area," said Foster. "It's relatively easy – particularly if you're a snowboarder, it's a natural fit, and it's super fun."
Foster said hour-long lessons will cost around $300 per student.
Like every business anxious to get going again, Foster acknowledges large group sales and cruises may be down the road after the pandemic has subsided and the flow of life returns to something that feels like normal. But he's betting Fliteboard will lure sports lovers to the water for an experience that is unique, exhilarating, and a text-book example of ultimate social distancing.